Going Totally Digital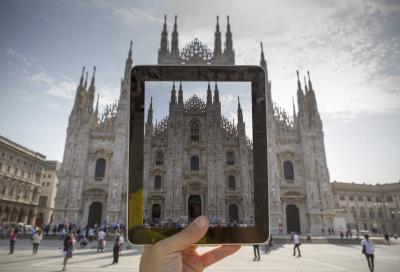 They are filmmakers and coders, journalists and communications experts. Their portfolios include transforming the sleepy Facebook page of a radio station into a site followed by 3.6 million people; working on major marketing campaigns for Hyundai and Warner Brothers and films for Michael Bay and Janusz Kaminski; and serving as press secretary for a recent mayor of Los Angeles. Their average age is 28.
No, this isn't the staff of the latest Silicon Valley startup or hot new Hollywood production company. This is the 12-person digital media team of the Archdiocese of Los Angeles.
Two and a half years ago, Archbishop José Gómez came to the social media expert Matt Meeks with a dream: Find new ways of sharing the stories of the faith. "If we're not reaching the people of faith now, how can we reach them?" he asked.
Meeks was intrigued. He suggested creating an outside media agency that the archdiocese could contract the work to.
Archbishop Gómez wanted more. "We need the young people inside the building," he responded. "We need to grow from within."
So in July 2013 Meeks became the archdiocese's chief digital officer. But he kept his agency concept as well. Rather than imposing ideas on archdiocesan institutions, the digital media team would function as "the servants' servants," "hired" by different clients for various undertakings. Currently they manage 15 Facebook pages and more than a dozen Twitter and Instagram feeds, and they keep 32 separate projects going.
"When we started," Meeks remembers, "the archdiocese's primary means of communication were the newspaper, whose circulation was about 60,000, and the media office, which was understaffed. Today, the archdiocese reaches on average per week anywhere from three to seven million people."
Part of the group's success is attributable to the strong original content created by the team. The look of the websites they design— for St. John's Seminary, for example—is clean and simple, handsome widescreen photos matched with just enough text. The archbishop's Facebook page likewise offers a lovely piece of art or a photo each day with a short spiritual quotation. Most posts are reshared thousands of times and receive hundreds of comments. Some, particularly those that highlight the rich Christian heritages of Los Angeles's many ethnic communities, have even garnered followers from other parts of the world.
But the team's greatest insight is that the most important expressions of faith lie not in their office but in the community. "Our goal," says Meeks, "is to highlight the inspirational stories that are already taking place and hope they can be a guide to other people.
"You can sit down and catechize someone all day. But what's going to help them believe is a story that wins their hearts."
There's enthusiasm among them, a hope-filled, can-do sense of the future. Someone recently brought in an Oculus Rift, the immersive virtual-reality headsets that seems likely to be "the next big thing"; the group riffed about the possibilities.
"What if we could show Creation," asks Meeks. "'Let there be light,' and this big light explodes all around you, while Morgan Freeman narrates." (Everyone laughs.)
"We could walk the steps that Jesus took," suggests chief communications officer Carolina Guevara, or the current path of Syrian refugees: "What a way to change a person's life, bringing them into that experience," imagines Meeks. "It's not just news. 'I was present on the boat.'"
Tasked with helping L.A.'s Catholic cemeteries tell their story, they suggested tying in with local Day of the Dead celebration. They hoped 500 people might come to their event at Calvary Cemetery. They got 2,000, and the next year nearly twice as many.
What's more, staff from all over the archdiocese have pitched in and made the effort their own. When this group talks social media, they really want it to be social—collaborative, fostering real relationships and actual encounters. In their office they keep one desk empty for anyone from the archdiocese who wants to come and sit in with the team.
The contemporary media landscape can fill many with apprehension. "We are in new waters," Meeks acknowledges, but he encourages people not to be afraid, to experiment. "The church has always been good about putting out into the water and going to uncharted places. That's what we do."